The Original "Viral" Foodie
Quick, easy and tastes really good.
The original recipe link: MEXICAN CHICKEN - Linda's Low Carb Menus & Recipes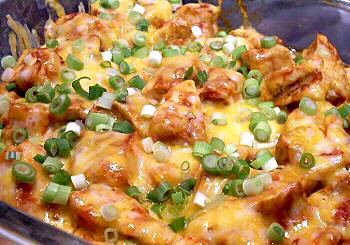 The way I made it.
MEXICAN CHICKEN
3 breast halves
1 packet mild, reduced sodium taco seasoning (I used McCormick and did not use entire package)
Salt, to taste
4 ounces Monterey Jack cheese, shredded, and some sharp Cheddar
3 green onions, chopped
Cut chicken into large bite-sized chunks. Put in a pan with some vegetable oil and sprinkle with taco seasoning. Stir and sauté til chicken is no longer pink inside, about 20 minutes. Add salt to taste. Sprinkle with cheese(s), turn off fire and let sit a moment while cheese melts. Scatter the green onions over the top and chow down.
I also sliced half an onion and half a bell pepper and sautéed them in the pan til slightly browned and soft first. Then added the chicken and finished it up. I used Monterey Jack and a little sharp Cheddar but did not use green onions. I served it my Spanish rice, guacamole and black beans.
I got 5 servings from mine. I used McCormic mild, 30% less sodium taco seasoning. Did not have too much cumin or salt like many pre-packaged ones.
Last edited: