I haven't tried this, but it looks yummy!
(I would butter the cup before adding the ingredients, and also, just spread the cream cheese on the bread before tearing and stirring in to the mix. Because I don't think it would stir in well )
1 egg
1 1/2 tablespoons milk
Salt
Ground black pepper
1/4 of a bagel (or similar amount of French bread, etc.)
2 teaspoons cream cheese
1/2 slice prosciutto or ham
Fresh thyme leaves or fresh chopped chives
Dijon mustard
1. Beat egg and milk together with a fork in a coffee cup, adding salt and pepper to taste. Tear bread into dime-size pieces; stir in. Add cream cheese; stir in. Tear or cut prosciutto into small pieces; add to mixture. Sprinkle with thyme.
2. Microwave on high until done, about 1 minute 10 seconds. Garnish with mustard and fresh thyme or chives.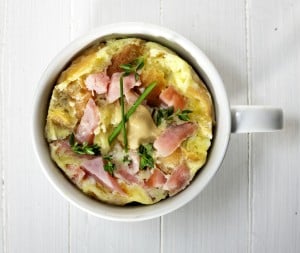 Thanks to:
Coffee Cup Quiche : Lifestyles